WEDDING / Mitzvah PRICING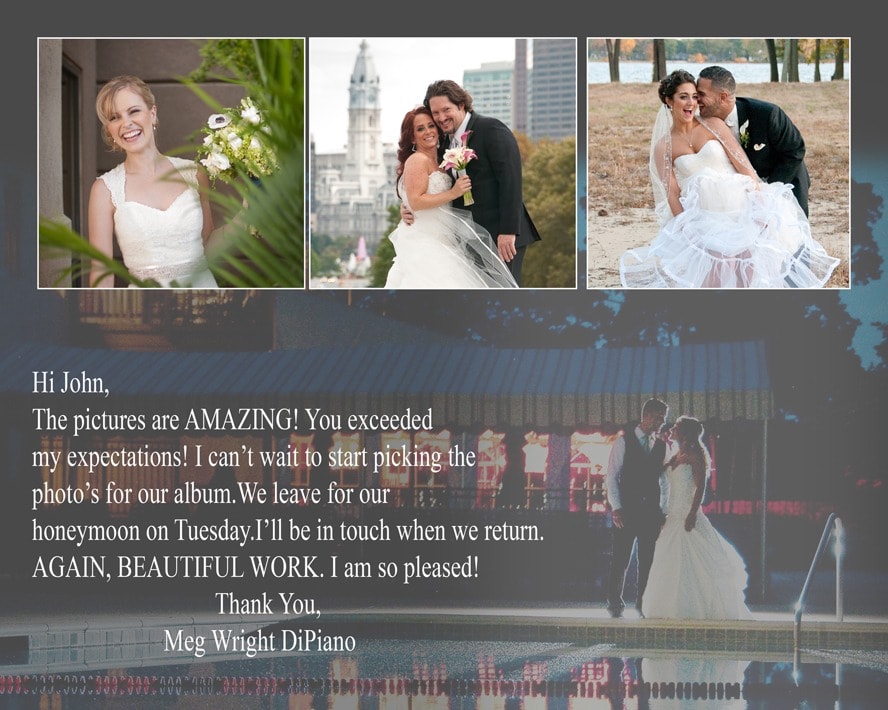 John Kellar Photography, LLC
…excellence in wedding photography for 25+ years…
Are you looking for someone to just take your wedding photos or are you looking for a real wedding photographer?
WEDDING / Mitzvah PRICE LIST
All Weddings include Full Copyright Release on Images (make your own prints if you'd like)
Minimum of 60 Day Web-Site Hosting for Family and Friends to Enjoy Your Photo's
Wedding Images are Fully Edited, Sequenced, Cropped, and Color & Density Corrected
Included and Not Mentioned in Pricing is Editing Time (approximately 8-12 hours with full coverage's)
10% Discounts on Associate Coverage's (ask for details)
Coverage Bundle
(best value without an album)
* Photographer and Assistant for 8 Continuous Hours (assistant doubles as 2nd photographer and lighting assistant)
* 60 Day Web-Site Hosting of All Edited Images
* All High Resolution Images on Drive (Color Corrected, Cropped, with Copyright Release / Make Your Own Prints)
* 20×16 Art Board Textured Mounted Wedding Portrait
* Complimentary Wedding Slide Show Video
* Your Price 2145.00  (415.00 Savings)   Regular Price 2560.00
Hourly COVERAGE'S
(including all edited images on disc or thumb drive with copyright release)
3 Hour Coverage  (subject to availability)
For a smaller wedding or having a professional photographer for your ceremony, family, bridal party, group shots and most importantly professional bride & groom portraits…………………………………………………795.00
5 Hour Coverage   (subject to availability)
For ceremony, family, bridal party, and bride & groom professional photographs and either prep photo's before the ceremony or candid's at your reception……………………………………………………………………………..…1295.00
8 Hour Coverage
Full coverage including prep photo's, ceremony, groups, and your reception………1795.00
Additional Hours above 8 Hours at 195.00 per hour (including all the extra edited images taken)
OPTIONS (add ons)
Add an assistant (2nd photographer / lighting person) …325.00
This extra person  will add different angles and perspectives to your wedding photo's and also provide more creative and artistic lighting to both  indoor and outdoor situations + Many Extra Photo's. 325.00 (based on 8 hour day)
Engagement Portrait Sitting  …295.00    (500.00 without booking wedding)
Either outdoors or in our studio, all the full resolution images are yours. Approximately 75 to 100 photo's will be taken. Facebook Posting on request to share with your friends at no extra charge. (travel distance more than 20 miles may incur extra charges)
Wedding / Mitzvah Packages (including albums for the generations)
Wedding packages are for bride and groom's who know that they want a professional wedding book and portraits or albums for parents. All Wedding Coverage's include all of your full resolution wedding images, cropped and color corrected, with full copyright release to make your prints wherever you choose. 60 day minimum web site hosting to share your professional wedding photographs with family and friends is included. A Facebook highlight slide show is also included for sharing on request.
CUSTOM PACKAGES AVAILABLE and QUOTED by REQUEST
FULL DAY BASIC PACKAGE
Photographer and Assistant (2nd Photographer / Light Person) for 8 continuous hours
All full resolution wedding images Included
Images are cropped, color corrected, some b&w and sepia conversions, and no watermark
60 Day minimum web-site hosting
Complimentary Facebook slide show including DVD
4o Images in 20 Page 10×10 Leather or Cloth Coffee Table Wedding Book
1-20×16 Art Board Textured and Mounted Wedding Portrait
Package Price = 2545.00 (includes 510.00 Discount if Purchased separately)
FULL DAY DELUXE PACKAGE
Engagement Session Including All Edited Images Included
Photographer and Assistant (2nd Photographer / Light Person) for 8 continuous hours
Images are cropped, color corrected, some b&w and sepia conversions, and no watermark
60 Day minimum web-site hosting
Complimentary Facebook slide show including DVD
6o Images in 30 Page 10×10 Leather or Cloth Wedding Album On ArtBoard Pages
1-20×16 Art Board Textured and Mounted Wedding Portrait
Package Price = 2995.00 (includes 755.00 Discount if Purchased separately)
Once in A Lifetime
Engagement Session Including All Edited Images Included and 1-20×16 Portrait
Photographer and Assistant (2nd Photographer / Light Person) for 8 continuous hours
Images are cropped, color corrected, some b&w and sepia conversions, and no watermark
60 Day minimum web-site hosting
Complimentary Facebook slide show including DVD
6o Images in 30 Page 12×12 Leather or Cloth Wedding Album On ArtBoard Pages
2-8×8 Duplicate Parent Album Wedding Coffee Table Parent Albums
1-20×16 Art Board Textured and Mounted Wedding Portrait
Package Price = 3995.00 (includes 940.00 Discount if Purchased separately)
CUSTOM PACKAGES AVAILABLE and GLADLY QUOTED by REQUEST
PORTRAIT PRICING
PORTRAIT PACKAGES 2018
…the best in combining both professional portrait prints and digital images…
SATISFACTION GUARANTEED or FULL REFUND or SESSION RETAKE
PLAN A
Up to one hour session (studio or local outdoors)
1-14×11 Portrait
4-Gift Portraits (mix/match any size and pose 8×12, 5×7, 4×6)
5 Digital Images with Copyright Release (select from 50+ images)
Digital images are good for printing up to 6×9 prints, invitation cards, holiday cards, social media, etc…
Social Media Post (on request)
Private projection appointment (see portrait sizes, croppings before you order)
Package Price 295.00 (135.00 Savings)
PLAN B
Up to one hour session (studio or local outdoors)
1-24×18 Canvas Gallery Wrap
5-Gift Portraits (mix/match any size and pose 8×12, 5×7, 4×6)
15 Digital Images with Copyright Release (select from 50+ images)
Digital images are good for printing up to 6×9 prints, invitation cards, holiday cards, social media, etc…
Social Media Post (on request)
Private projection appointment (see portrait sizes, croppings before you order)
Package Price 495.00 (250.00 Savings)
PLAN C
Up to one hour session (studio or local outdoors)
1-32×24 Canvas Gallery Wrap
8-Gift Portraits (mix/match any size and pose 8×12, 5×7, 4×6)
20 Image 10×8 Art Cloth Family Album
All Digital Images with Copyright Release (50+ images)
Digital images are good for printing up to 8×12
Social Media Post (on request)
Private projection appointment (see portrait sizes, croppings before you order)
Package Price 995.00 (375.00 Savings)
2008 … prices are subject to PA State Sales Tax